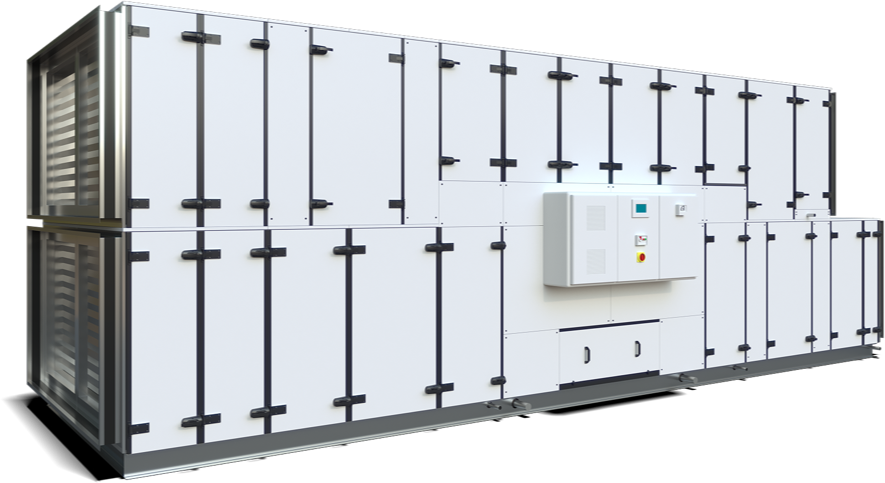 DataCond® ETOS is a model from the DataCond® product range for air conditioning rooms with high thermal loads and is the most efficient in this series in its operation.
The housing design is an evolution of the successful HygCond series, whose use has proven successful in the building services sector. The mode of operation of DataCond®ETOS is based on the principle of indirect evaporative cooling. In this way high energy efficiency can be achieved with low energy input. On the WhiteSpace side, the ETOS unit needs only evaporative cooling to come within 1.5K of the wet-bulb temperature of the fresh air. This makes it possible to do without an additional mechanical compression refrigeration system throughout the year.
The integrated double-plate heat exchanger separates the fresh air and room air, ensuring that no adverse climatic conditions, such as excessive humidity, can affect the space. This type of air conditioning is ideal for rooms with a high thermal load, such as data centres and server rooms.
DataCond®ETOS is available in five sizes with up to 250 kW of sensitive cooling capacity and is customised to the specific project requirements through its modular structure. All products in the DataCond® series correspond to the new VDI 6022 2017-01 and VDI 2047 in terms of hygiene.
Device construction
Functional principle of free indirect evaporative cooling

Optional power-controlled mechanical refrigeration for redundancy or peak-load cooling

Water treatment as per VDI 6022

Optional: integrated option for direct free cooling

Rotary pump in redundant design

2-fold jetting as continuous water system for utilising the potential in the fresh air

Highly efficient watertight double-plate heat exchanger

Highly efficient EC fans in redundant design

Optional heat exchanger for redundancy or peak-load cooling
EC Fans run as FanWall
Integrated water softener and UV-C lamp for water disinfection
Meets hygiene requirements as per VDI 6022 and VDI 2047
Outdoor and indoor installation, and left and right versions
Direct free cooling via integrated louvred dampers optionally possible
FUNCTIONAL DIAGRAM OF INDIRECT EVAPORATIVE COOLING